WELCOME!
You have arrived at the internet home of the Waynesboro-Staunton Region AACA.
Please save

this

page's link right now!
Look over our Home page, and then use the Menu bar above to explore our site and learn more about our friendly region. The "About" tab will get you up-to-speed on the Region, and the "Activities" tab will take you to our Calendar of events.
Below are some scenes from the July 29 Vehicle Display at the Augusta County Fair in Fishersville
Welcome to the website home of the Waynesboro-Staunton Region AACA!
If you are a visitor, please take a few minutes to look at our site. We hope you will find items of interest and consider becoming a member. You do not need to own an antique vehicle to become an AACA member! To find out more about membership in the Antique Automobile Club of America, as well as the Waynesboro-Staunton Region, just click on the "Membership Info" tab on the menu bar above.
Our region usually meets the 3rd Sunday of each month for dinner, a business meeting, and a program or an activity. Tours and picnics are typically planned during warmer weather. Visitors and guests are always welcome! For a schedule of our activities, as well as other AACA activities, click on the "Activities" tab above.
Below – A look back to our region's origins.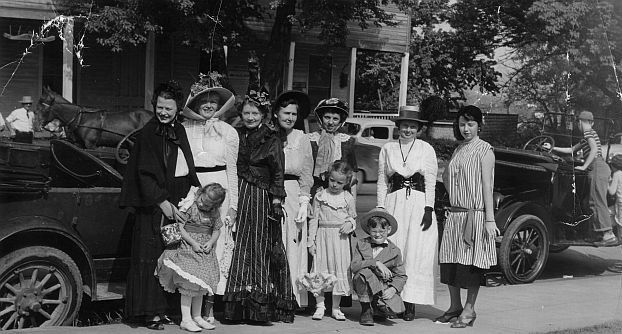 The above photo was taken in Waynesboro, Virginia, in August, 1950, at one of the first meets of the Waynesboro-Staunton Region AACA. On the back of the picture is written, "The ladies line up and look pretty before leaving for Coyner Springs." Awards were given for the "Best Dressed Little Girl," "Best Dressed Lady," and "Best Dressed Little Boy."
Website Last updated: August 13, 2022
For questions concerning this website contact: Scott Gregory, Webmaster